The Mantle House Mission is a transitional home first and a resale store second. Our core focus will always be providing hope and help to young people in need. Since we first opened our doors in October of 2012, we've worked to raise awareness, money, food, and clothing for multiple charitable causes, including:
Connellsville flood victims in 2016
Mike's Float for Hope
Westmoreland County Substance Abuse Help Line
Below, you can read about some of the young people whose lives we've touched (and who've all touched our lives in return):
Rondale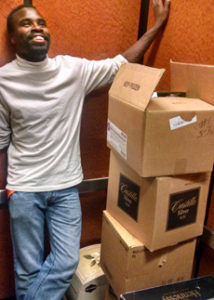 Rondale came to America from Antigua with no friends or family in 2015 to begin a life of his own. After over half a year on the streets, a church member found him walking around Pittsburgh and introduced Rondale to Marci and Ron Elsbury. Soon after, Rondale came to stay at Mantle House.
While at the Mission, Rondale worked hand-in-hand with the Mantle House staff to learn valuable life skills to help him succeed on his own. In addition to teaching Rondale more about the Bible and Jesus' teachings, we also helped him get his learner's permit! While at the mission, Rondale helped man the Resale store, helped out at the local senior center, and assisted with our food bank!
Rondale says that his time at Mantle House Mission helped him to be a better person. "I feel more independent – I feel love and acceptance from all at the Mission. I feel like family." In the future, Rondale plans to reach out to youth in need and help them the same way Mantle House did.
Donate Now
Do you want to do your part in helping those in need? Donate to Mantle House by visiting our Donate page, or by Contacting us directly. We accept donations in the forms of gently used items for the resale shop, your volunteer time, and of course funds to fuel our mission!